Neumann Kaffee Gruppe Korea
Your coffee is in good hands with us!
Who are we
NKG Korea is the newest addition to the NKG family, established in Seoul in August 2022. We provide service to local and global companies, from small coffee roasters to multinational corporations. We specialize in sourcing green coffee worldwide, especially from our NKG sister companies, offering our customers a well-curated and customized service from the crops to their cups.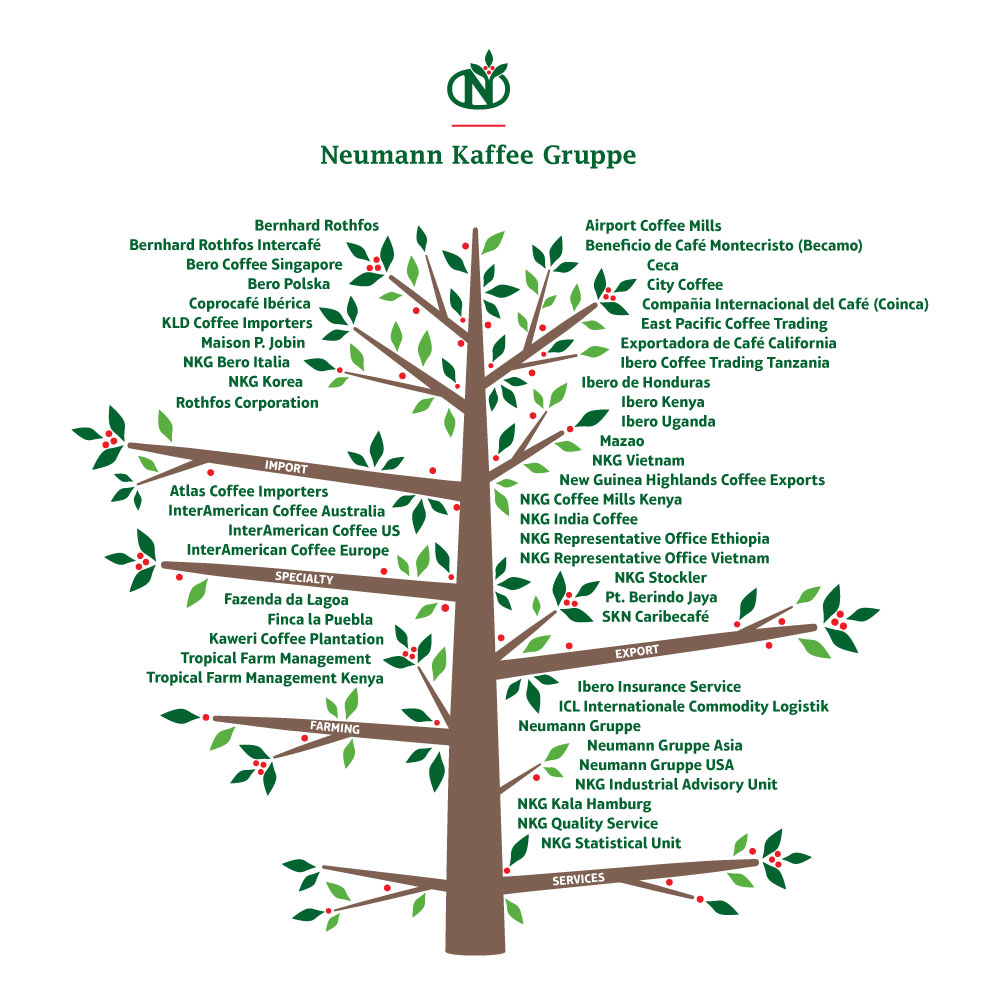 NKG Korea are proud to be a member of the Neumann Kaffee Gruppe (NKG)- the world's leading green coffee company. Our unique network allows us access to numerous other quality-control labs and on-the-ground experts around the globe.
NKG Korea aims to provide up-to-date and exclusive information about the coffee market and the best service for all our clients. Always keeping in mind that transparent and efficient communication is the key to success. That is why we always maintain long-term communications with clients and dedicate all our passion to coffee.
Single product, single mind
Our Team
We are a small team based in Seoul, but NKG's global network and strength help us acquire the coffees our customers love—and to keep discovering new coffee. Especially with the full support from our Asia Hub and its main trading arm, Bero Coffee Singapore. Our team is equipped with decades of experience in sourcing coffee and refined logistics operations and knowledge. The expertise and passion our teams in Asia Hub bring to work each day helps us to impact the supply chain, both locally and globally positively.
We are proud that the principles of tradition and modernity are also reflected in our workforce.
Committed and qualified employees are crucial for the success of our company. In addition to flat hierarchies and a casual corporate culture at all levels, we ensure that our organization maintains a familiar, relaxed atmosphere and look forward to our annual team events and celebrations.
We work a 37.5-hour week, which can be flexibly implemented in the office. For us, mobile administrative work during the week is just as much a part of this as modern office equipment. In the commercial area, we work 24 hours a day and 5 days a week according to fixed shift times, which change in weekly rhythms.
In addition to high-quality coffee, water and fruit are available to our employees at all times. A daily changing lunch menu is available in our own subsidized canteen.
Our employees can also take advantage of other benefits such as the JobRad, HVV ProfiTicket, their own parking space, 30 vacation days, language courses, weekly in-house training courses, company pension plan, asset management and other social benefits. Benefits and other social benefits are available to our employees.
Through our ideology of promoting young talent, accompanied by our moral compass (Code of Conduct), we see ourselves as a "Kala family"!
If you would like to become part of our team, please have a look at our job portal.
Connecting you to the world of coffee
Coffee is our tradition, our present, and our future.
Land line: +82 2 702 3090
Email address: admin.korea@nkg.coffee
Address: NKG Korea Ltd.
3rd fl · 309 Tojeong-ro · Mapo-gu
Seoul · Republic of Korea 04166